Podcast: Play in new window | Download
Extracting Data From Eye Reflections in Photos
One of the most interesting things I heard in a podcast was from NPR Science Friday on Stitcher Radio.  A man named Rob Jenkins was being interviewed in regards to his research.  Rob's been researching facial recognition and more specifically the extraction of  data from our eyes through pictures.
Usually we see movies where the police find evidence through a reflection in a window and find evidence that leads them to the bad guys.  Apparently there was a James Bond movie where James Bond sees a bad guy behind him through the reflection of a persons eye that stood in front of him.  Well we are super spies (at least most of us are not) like James Bond.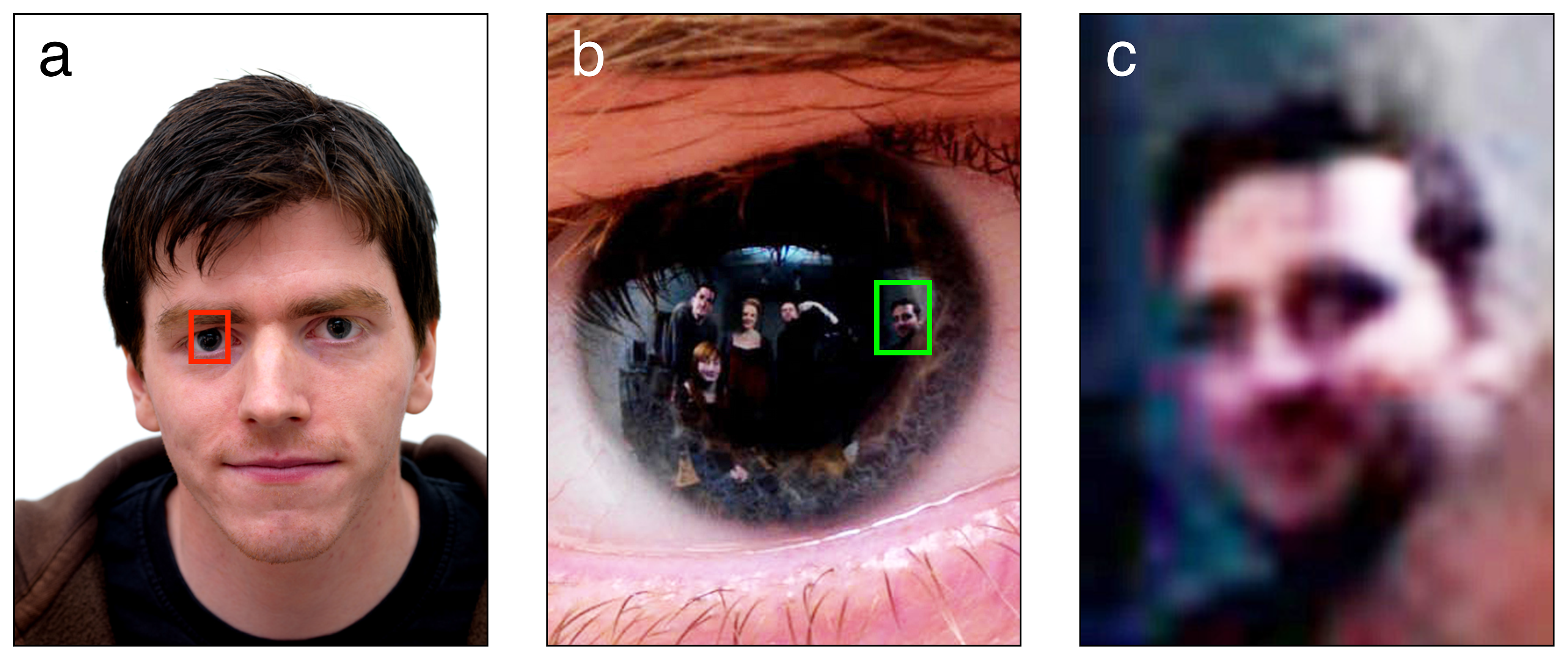 There is a detailed explanation of the research being done but let me share the summary version of their research.  While using a 39 mega pixel camera to take photographs of subjects, researchers have been able to see images within the reflection of the subject's eye.
How does this help the private investigator or criminal Investigator?  By zooming in on high resolution photographs investigators could identify witnesses, locations, perpetrators or anything that could help in solving a crime.  Kidnappings, hostage taking, child sex abuse cases, you name it.  There are endless possibilities with eye reflections.
Be sure to check out the study and listen to the interview on NPR.  Both are very informative.
AT&T and Verizon Make Serious Changes to their Phone Plans
While watching the playoffs between the Seattle Seahawks and the San Francisco 49er's I saw a commercial for an AT&T phone plan which included unlimited talk and text and data plan for $45.00 with no contract.  At least that is the way I remembered the commercial.
The plan sounds amazing however who the heck wants a smart phone with 300MB of data?  If you were to watch one YouTube video on your phone you would likely go over the data limit provided.
AT&T seems to be trying to gain back some of the market they are losing to T Mobile.  Many customers are not happy with AT&T and how they claim they sell unlimited data on their plans only to throttle the data after a specific amount.
Verizon is trying something similar as well
Techradar reports that Verizon is offering unlimited talk, unlimited text and shared data (250MB) for $60.  Again I would ask; who only uses 250MB on a smart phone?
Techradar supports my thoughts in regards to T Mobile stirring the pot in the phone industry.
T Mobile provides customers with unlimited talk and text and data on their phones with no contract.  You can be sure that AT&T and Verizon are not invincible and they cannot gouge their customers for much longer.
The Pebble –Steel
The Pebble watch was originally a Kickstarter campaign and money was raised to create a very cool smart watch.  The watch can receive notifications from your smart phone like when you receive text messages and phone calls.  It is water-resistant and can take on downloadable applications.
The Steel version receives a few social media apps but one application in particular caught my eye.  Pebble linked up with Mercedes. The Pebble watch can now link up with a Mercedes vehicle and monitor tire pressure and other important things within the vehicle.
This isn't ground breaking stuff here but it shows that there is promise for the device and other devices like this.
I would like to see the smart watch be everything that a smart phone is today.  I would like to see Skype sessions take place through the watch.  I would like to see a camera and video capabilities from the watch.  This would allow investigators to watch the person they are videotaping on their watch for more accurate documentation.  It wouldn't hurt to have Google Maps on the watch either.
I am wondering how far we are from this.  Next week I will discuss another watch phone that might have everything a private investigator would need.
Thanks for watching, listening and reading.
Andrew