I am rebuilding the private investigator store and it is taking a little bit longer than I expected.  This resource shows many of my recommendations that were in the P.I. Store.
This is a resource page that shows some of the resources I use on a daily basis. If you are new to the private investigation industry, interested in the industry or maybe your a veteran investigator that is looking for new ideas,  there is something for you on this page.
Disclosure: I am an affiliate for some of the links below and I will earn a commission if you make a purchase through those links (at no cost to you).  I recommend these products because I have used them or trust them,  They are not recommended because I earn a commission from them.  Don't buy these products if you don't think they can help you in some way.
PRIVATE INVESTIGATOR SELF HELP BOOKS
– I just finished this book on audio. This is a very good book for anyone on finding financial freedom. This is good for any private investigator or business owner.
 – This is one of the first books I purchased I believe about 8 years ago. I have the first edition if I am no mistaken.  I enjoyed reading this and learned a significant amount.
 – This book is more of a resource for private investigators.  You are going to have questions as to where to find answers and this book has a ton of references to find answers.  I have this book and it has been a great resource for me.
 – Another book I have. Is this something your interested in?  I would read this book first.
 – In the process of reading this book from Gary Vaynerchuck.  Very motivating guy.  You can find him on Youtube.com.
 – I got the audio version of this book.   There are some great principles to apply in the business world that Tim Ferriss reveals.  I didn't apply everything in this book to my business but some of the stuff is worth applying.
 – One of the first books I read as a supervisor for a private investigation agency.  Worth checking out.
I recently picked up this book to sharpen my knowledge on laws related to background checks.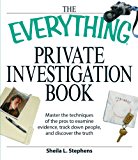 A popular book for new investigators.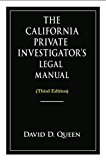 This one has high marks on Amazon.  I purchased the Kindle version of the book.
COVERT VIDEO EQUIPMENT
Covert Video Sunglasses This is something you should consider having as a primary or secondary spy camera. Good for internal and external video.  These are very similar to the first pair I ever purchased.  They are reasonably priced to find out if they will work well for you.
Car Alarm Remote Keychain DVR Camera
– My favorite hidden camera that I use everyday.
Swann DVR-421 PenCam Mini Video Camera & Recorder Executive-quality Black Ballpoint Pen, Hidden Pinhole Camera
– Great for surveillance and process serving. Get an idea of how it works on my Youtube video.
Pivothead Durango Whitey 1080p Hd Video Camera Sunglasses
– Have not used these yet but these appear to be the covert sunglasses of the future.
VIDEO EDITING
 – This is the product I use that allows me to take the video from video camera and put the video on my computer with the time stamp (Date and Time) on the video.  I have used this product for about 2 years now.
Windows Movie Maker – I use this to remove the sound off my covert video.  Pretty easy to use.  If you want to learn how to remove the sound from your video then watch this VIDEO.  You can download it from the aforementioned link if it is not on your computer.  I am pretty sure this is for PC's only.
TRI POD
This model from Sun Pak is suppose to have the detachable mono pod. The cost of this upgraded version is about what I paid for the version without the mono pod.  Pretty good deal.  I am happy with my pistol grip mono pod.  Click on the tri pod for more information from Amazon.  To see my video review of the Sunpak tripod click here.
UPDATE
I am currently using the Mafrotto Compact Action tripod which is better then the Sunpak tripod in my review.  I will try to make a video for it as soon as I can.  The Manfrotto Compact Action tripod as the grip hand which I love and is made better.
SEND LARGE FILES OR VIDEO
YouSendIt– I use YouSendIt to send large video files to my clients.  If you are a vendor or plan on being a vendor for other investigation agencies, you will want this to send video files to them.  Most companies require that you are capable of sending large files.  Click the following link for a 14 day free trial.  I pay very little per year for this service.  Send Large Files Up to 2GB – Free 14 Day Trial!
Interesting Websites
Vigilantism – Many examples of what Not to do with your investigative skills